After devoting their debut to the concepts of Anthony Braxton and Ornette Coleman
and inventing the collective alter ego Alvin P. Buckley as the mastermind behind their
second album, Die Hochstapler have with their third release officially declared Alvin P.
dead and arrived at a music entirely their own. The title is borrowed from the literary
exercise of building a sentence including all the letters of the alphabet. This is no
coincidence, as four out of six tracks presented here are based on a collectively
developed musical alphabet.
Don't expect this to sound like a dry exercise, though: The music ranges from the
rustic romance of "Dear Margherita" through the lively "The Music of Alvin P. Buckley"
and the surprisingly serious "The Fox" to the zen-informed "APB is dead". The remaining
two pieces are two halves of Die Hochstapler's Opus Magnum "Prima - Di Prima", a more
than half hour long four-way contemplation on the notion of cause and effect.
The Music of Alvin P. Buckley
APB is dead
UPCOMING CONCERTS

30.11.18
Aufsturz
, Berlin
01.12.18
Pierre Grasse
, Halle
02.12.18
Blaue Fabrik
, Dresden
03.12.18
Porgy
, Wien
04.12.18
improstor
, Novi Sad
05.12.18
Jazzaj
, Budapest
06.12.18
Interpenetration
, Graz
13.12.18
Fylkingen
, Stockholm
DIE HOCHSTAPLER plays THE MUSIC OF ALVIN P. BUCKLEY
excerpt1
excerpt2
The second album of the Italian-French-German quartet is all based on
questions of language and communication. Refraining from any use of notation,
rules and strategies developed out of poetry, card games, alphabets and other sources
of inspiration form the grammar for the hochstaplerish discourse.
The main source for these concepts lies in the discovery of the writings of one exceptional
musician and linguist from Chicago:
Alvin P. Buckley
. A pioneering scientific resarcher in
the field of probability theory as much as a versatile musician back in Chicago, Buckley
retired from active music making after an epiphanic encounter with Stockhausen, but kept
writing down ideas for musical games, structures and strategies for collective composition,
as well as melodic fragments and short philosophic aphorisms, in his journal.
Die Hochstapler in residency in Mulhouse, La Filature, May 2014 © Pierre Chinellato
The vast majority of entries in Buckleys journal (1959-1964) circle around how musical
communication could potentially be organised. Buckley applies mathematical laws to
musical settings and derives rules and strategies out of card games and alphabets.
50 years after his untimely death in a tram accident on June 15th, 1964, Buckley's
pioneering ideas come to life in the music of Die Hochstapler: Four independent voices,
free to suggest, pretend, agree, disagree or ignore at any time of the game, collectively
build up a rhetoric, full of hints and references, playful and ever changing.
HOCHSTAPLEREI
Next to their remarkable instrumental competence, the four members of "Die Hochstapler"
are also incredible card players. On their long tours they like to indulge in various central
European card games, which they practice in order to improve their reaction and strategy
skills. They even developed a game on their own called
"Hochstaplerei"
, which they pre-
sented at the Umlaut Festival Berlin 2014.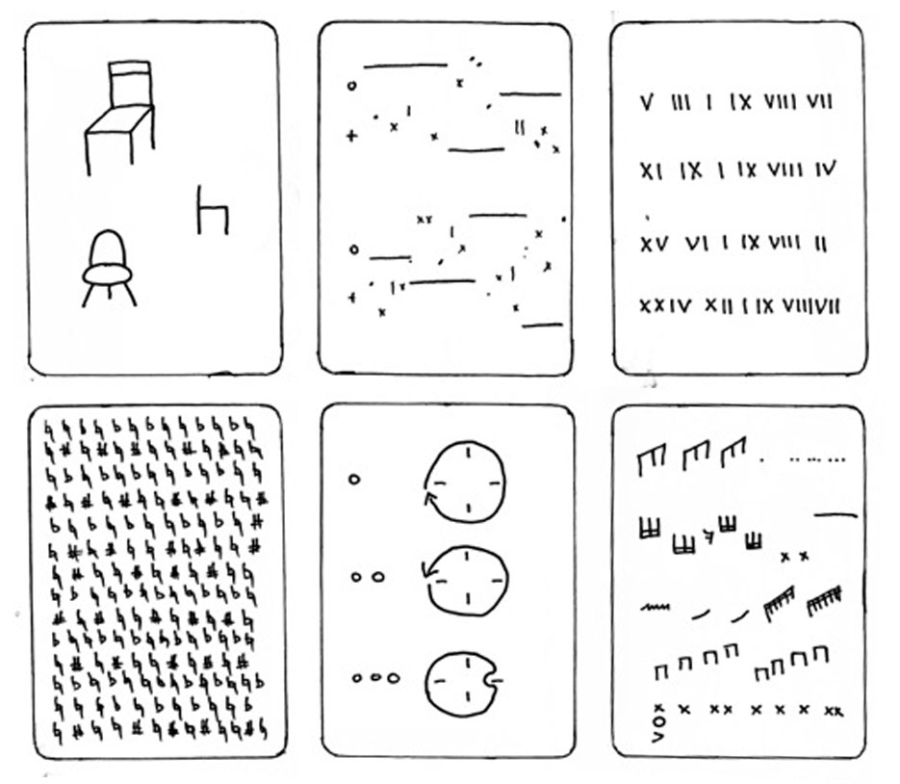 Playing cards for "Hochstaplerei" © Die Hochstapler
THE BRAXTORNETTE PROJECT
Die Hochstapler's previous project
"The Braxtornette Project"
, a work on the musics
and philosophies of both Anthony Braxton and Ornette Coleman, has been performed at
various festivals and venues in Europe between 2011 and 2014. A recording in four parts
has been released as a double CD on
Umlaut Records
to much critical acclaim.
Die Hochstapler - "The Braxtornette Project" (2CD, Umlaut Records 2013)
"sensationell gut gelungen"

Curt Cusine, skug

"Excellent projet, vivement conseillé."

Julien Héraud, Improv-Sphere

"excellent album"

Franpi Barriaux, Citizen Jazz

"Anyone with more than a passing interest in either composer, or simply interested in the
current European jazz scene, should snatch this baby up."

Brian Olewneck, Just Outside

"Allt sprudlar som glad kolsyra."

Leif Carlsson, Lira


Excerpt from live recording at Sowieso, Berlin, March 2013